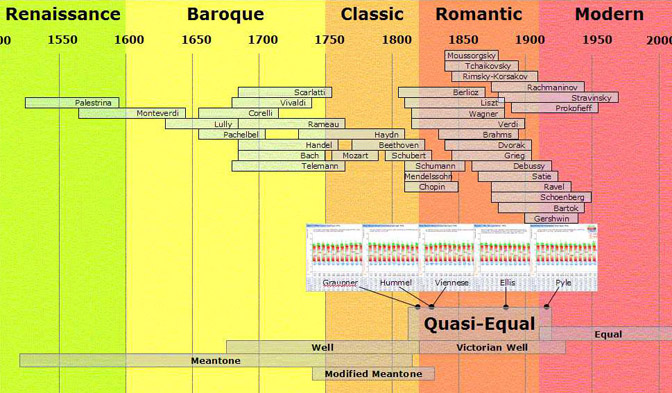 These were tuning methods aiming at equal temperament, without benefit
of the correct math for setting the temperament. Most of these tunings have each note
within 1 cent of "correct" equal temperament, and hence most of them would pass the
strict PTG Tuning Examination. On hearing the piano played, it is unlikely that even a
discriminating ear would be able to distinguish any of these tunings from perfect ET.
Graupner: The founder of the Boston Philharmonic, Graupner wanted the fifths "rather flat"
and the thirds "rather sharp than otherwise".

Hummel: An Austrian musician, known as "Europe's greatest pianist", a student of Mozart.
"The only concern for piano tuners in 1829 was that all twelve fifths should be
smooth sounding." (Jorgensen, p. 407)

Viennese: Also by Hummel. This temperament became popularly known as the Viennese.

Ellis: "New Equal-Beating" (1885). A scientist, Ellis concluded that no one was able to
tune mathematically exact equal temperament, and developed this plan to help solve the
problem. He had concluded that it was impossible to count beats faster than 5/second.

Pyle: Pyle and William Braid White both used the same bearing plan, which is the standard
still in use today. Pyle started using this variation in 1884. Braid-White's became the
standard for Equal Temperament.